How to Quickly Spruce Up a Carrot Door Hanger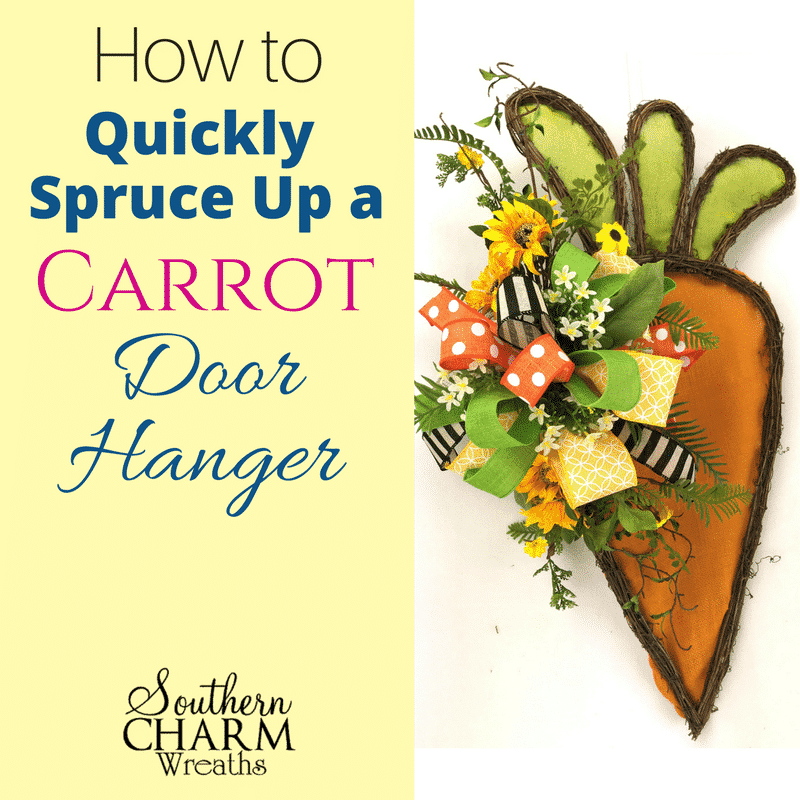 Nothing says Spring like a big carrot! This fun door hanger from Carolina Pottery is getting a makeover for the front door. This post contains some affiliate links for your crafting convenience. Click here to read my full disclosure policy.
How to Quickly Spruce Up a Carrot Door Hanger
In this video, we're sprucing up a carrot door hanger for our Spring door. This would also look cute on a mantle or large mirror. Here's how to make it:
Supplies
Grapevine carrot door hanger (Carolina Pottery)
10 in. Burlap Deco mesh
Pipe cleaners
Assorted Spring ribbon (I used 4 different ribbons)
Silk flowers & greenery
[Tweet "How to Quickly Spruce Up a Carrot Door Hanger"]
How to Quickly Spruce Up a Carrot Door Hanger Tutorial
Start by cutting a 24″ piece of burlap deco mesh.
Take the piece of deco mesh and scrunch it up with your fingers into a bow tie shaped poof. Fasten it with a pipe cleaner. Set it aside. Note: I used my Bowdabra to hold it.
Next, make a bow using 12 inch loops. Fasten it with pipe cleaners or florist wire. Set the bow aside. For bow details, click here.
Gather your silk flowers and lay one flower bundle facing left and one facing right so there is room in the middle for your bow. Attach the stems together with two zip ties.
Attach the deco mesh bundle with florist wire across the empty space between the flowers.
Now it's time to add your bow. Simply attach it using florist wire over the deco mesh bundle.
Add your bow and flower arrangement with florist wire to the carrot. Note: I added mine to the left side so that you can still see the full carrot shape.
Fluff your bow and move pieces around where you want them. You may also want to trim any pieces that now look to long on your door hanger.
For a finished look, add greenery pieces to your bow loops with hot glue and fill in your arrangement with greenery and small flowers.
Lastly, hot glue silk flower leaves on the back of the door hanger to cover any fasteners or stems.
How to Quickly Spruce Up a Carrot Door Hanger Video…
Isn't this a fun and quick project? You don't always have to start from scratch. Buying something like this carrot is a great way to make a custom piece quickly.
If you would like to learn more about wreath making, join my Wreath Making Club.
Don't forget to join me on Facebook Live, for my other DIY tutorials. Even better, join our messenger bot HERE and we'll send you a message on Facebook the next time we go live. It's always more fun to join in on the conversation.
Happy Wreathing,
Julie
If you enjoyed this post, you might also like:
DIY Compact Decorative Spring Wreath Idea