DIY Elegant Silk Flower Arrangements for Home Decor
Are you wanting to add a touch of elegance to your home decor without spending a fortune? Silk flower arrangements are the perfect choice for creating beautiful and long-lasting decor!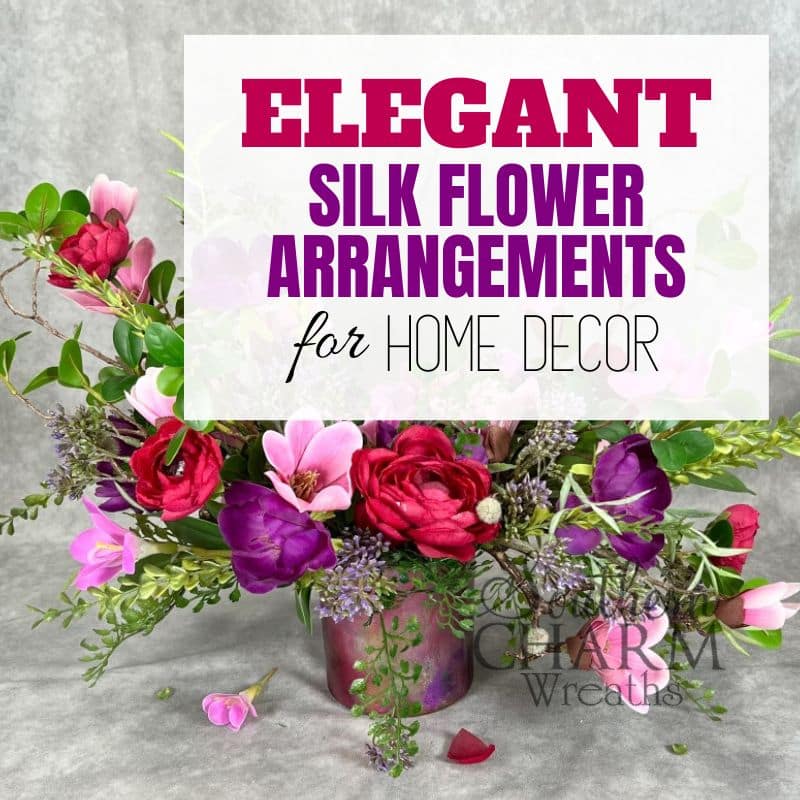 If you're new to the silk flower game, this is the post for you!
I'm providing tips and tricks you need to create your own stunning arrangements using realistic-looking silk flowers, artificial greenery, and creative bases!
I've also included some of my very favorite silk flower projects for you to try out at home.
Types of silk flowers
When it comes to silk flowers, there are endless varieties for you to get creative with!
In my own designs, I use both silk and plastic artificial flowers for DIY projects. This combination is both affordable and durable for long-lasting, gorgeous decor!
Flowers like ranunculus, hydrangeas, roses, and tulips are great options. A good mix of flowers and greenery creates realistic and elegant silk flower arrangements.
Color and style
The colors and style of your silk flower arrangements will depend on your personal taste and your existing home decor.
For a spring-inspired look, try pastel colors like blush pink, light blue, and lavender. They look soft and lovely together!
For a more dramatic effect, deep-toned colors such as plum and burgundy add richness and depth. These are perfect for winter and autumn!
Bright and vibrant colors such as yellow and orange can add a pop of color to any room. They can add a sunny pop to your space any time of the year.
When choosing colors, consider complementing or contrasting with your existing decor; this will create a cohesive look.
11 Stunning silk flower arrangements
Silk flower arrangements can be used as centerpieces all around your home. Plus, they make amazing gifts!
Here are a few of my favorite silk flower designs to get you inspired and creating:
Learn to make this simple silk flower summer arrangement to brighten up and invoke joy to any room of your home!
Full yellow roses are super showy – their bright yellow hue would make anyone smile.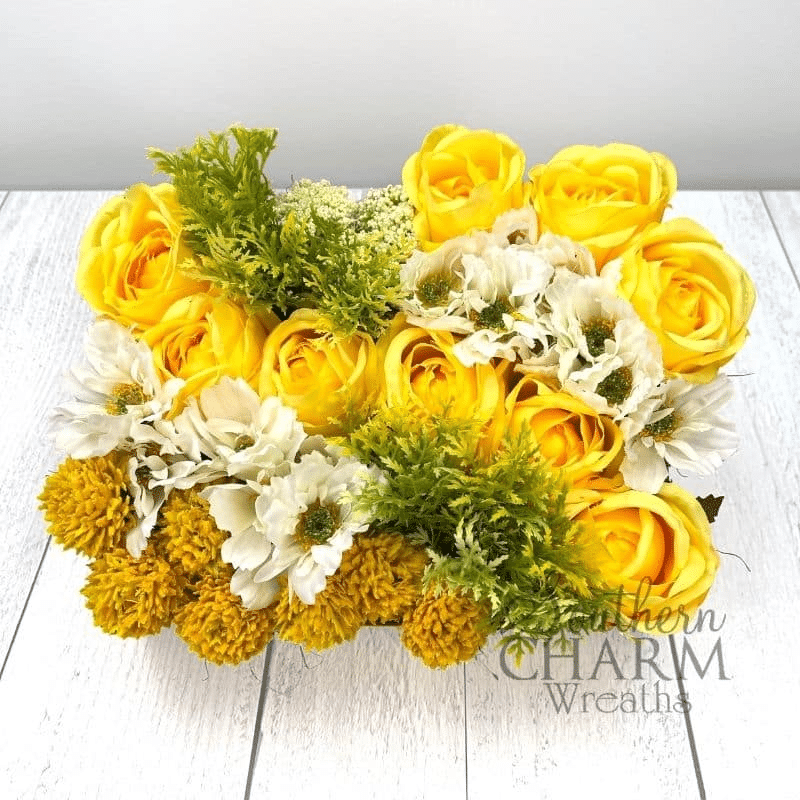 For an autumn arrangement, I love the deep colors in this design.
The purple pumpkin picks in this DIY Fall table arrangement tutorial adds a little passion and way more interest in this modern color palette than a traditional orange color table arrangement. Complimentary purple silk flowers set the whole thing off!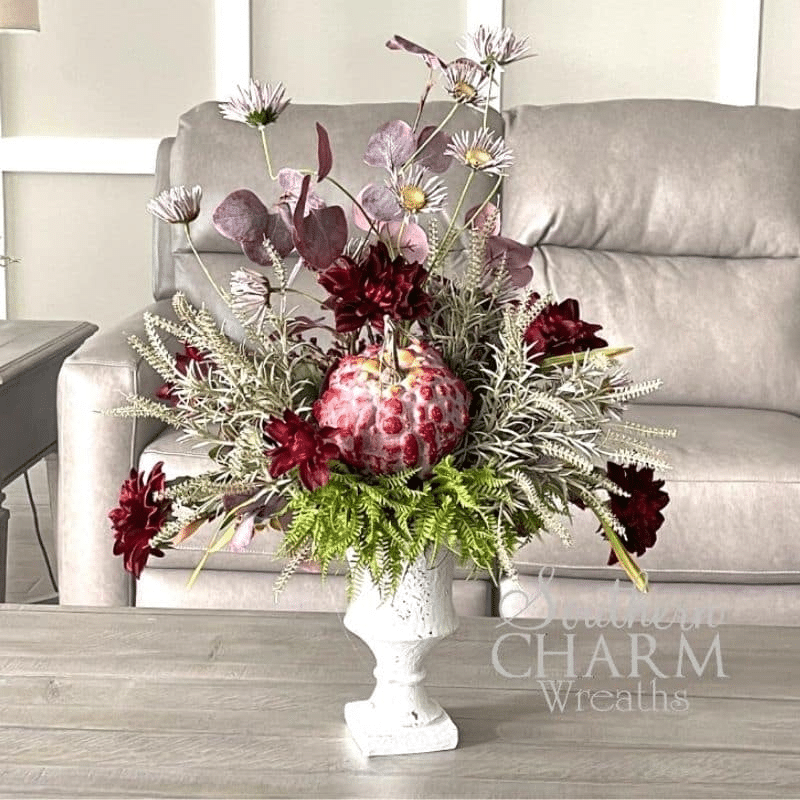 This tutorial learn how to make a horizontal silk flower table arrangement that features a patriotic display of red, white, and blue silk flowers in a horizontal arrangement. 
These "long and low" designs look wonderful on mantle pieces and coffee tables or along a dining room table runner.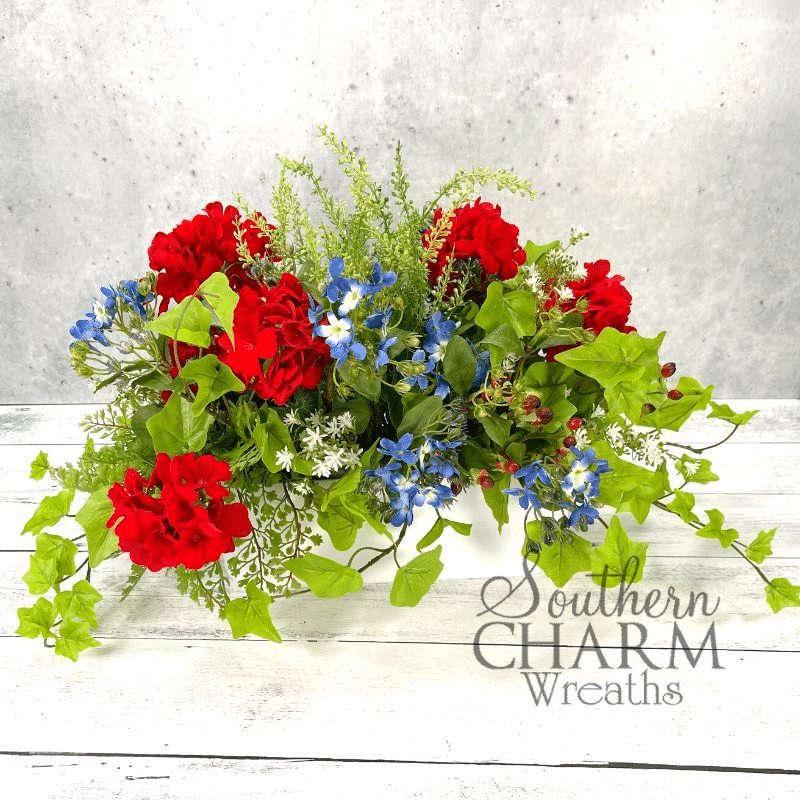 This neutral sunflower table arrangement tutorial has plenty of fluffy greenery for a whimsical display. 
The simple colors would work well in just about any home.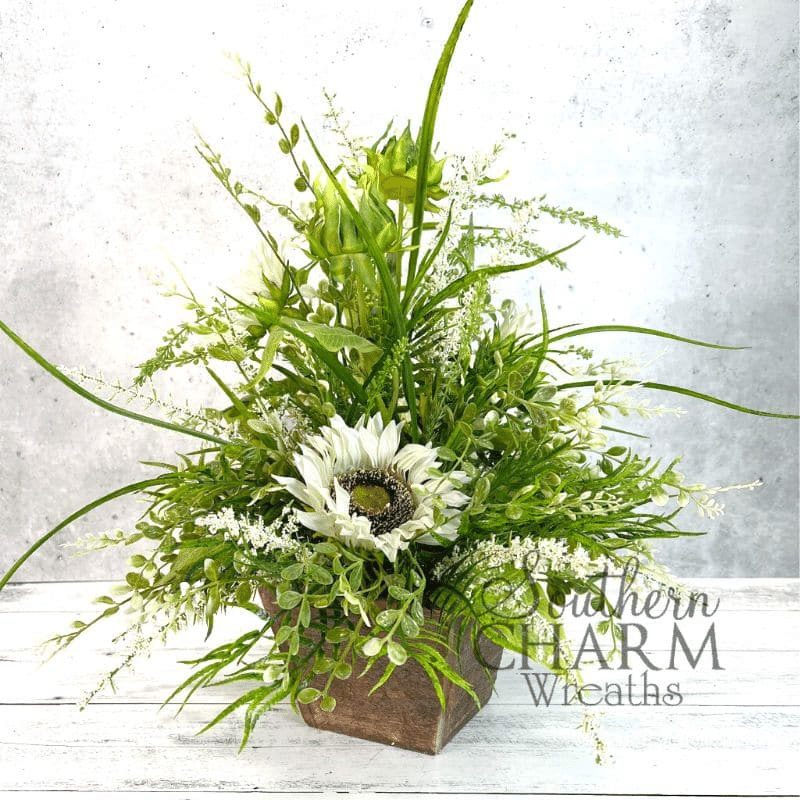 This sweet rose mug centerpiece makes an amazing housewarming gift. Pop it on a side table for some instant pastel beauty. When you learn how to make silk flower table centerpieces using a mug, you'll always have a gift idea for a co-worker, teacher, neighbor or loved one in your life.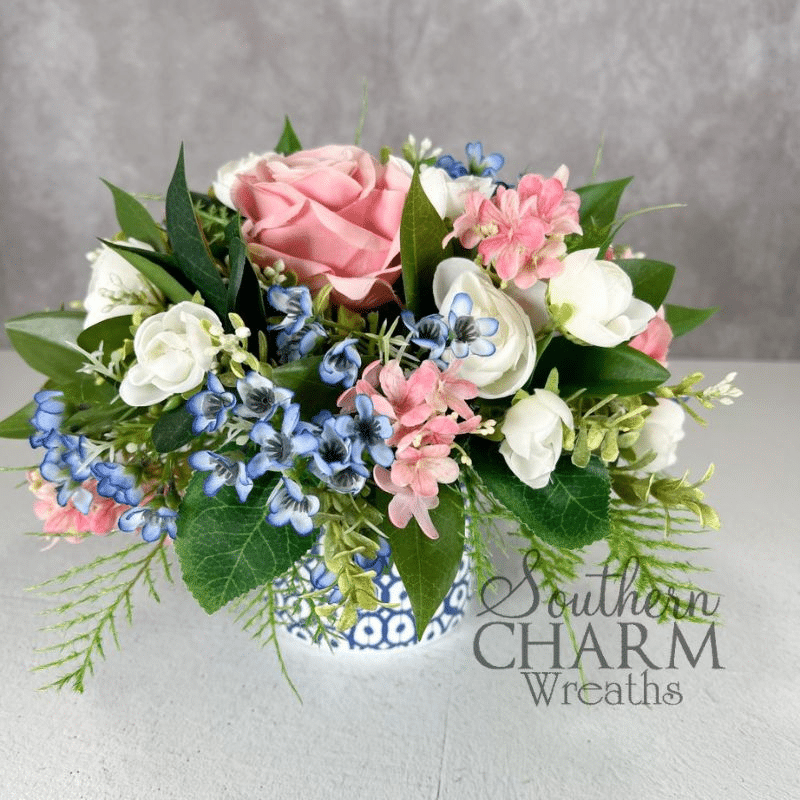 If you're a beginner designer, I highly recommend learning how to make this simple summer silk flower design using zinnias and fruit!
The steps will provide you with great basics to take your practice to new heights. Plus, the design is simply gorgeous!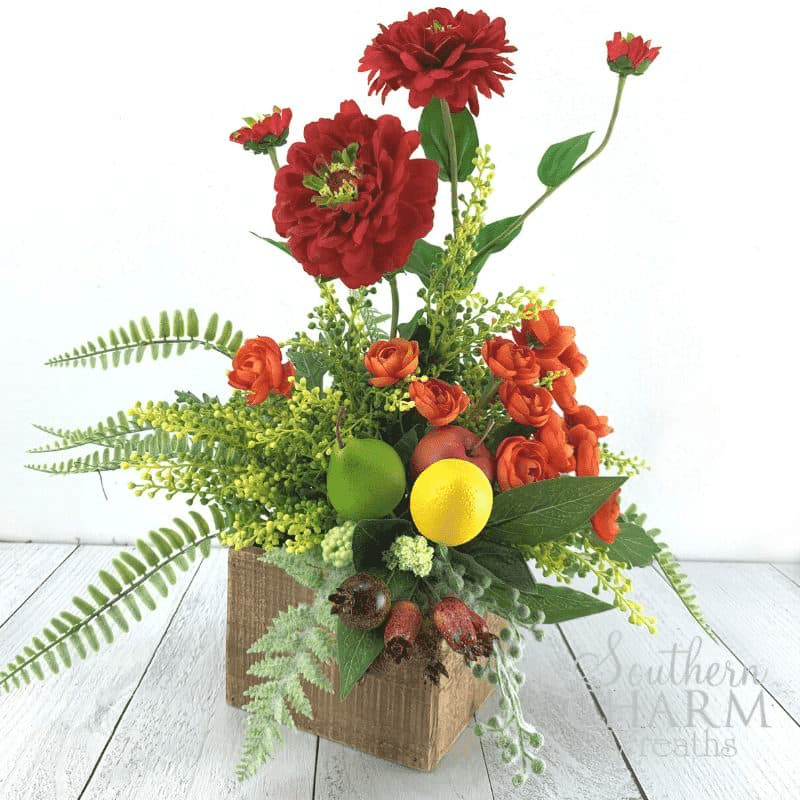 I love the way these sunflowers pop against the light blue hydrangeas in this rustic silk sunflower arrangement tutorial. This "long and low" design would look perfect on anyone's mantle to celebrate the summer season.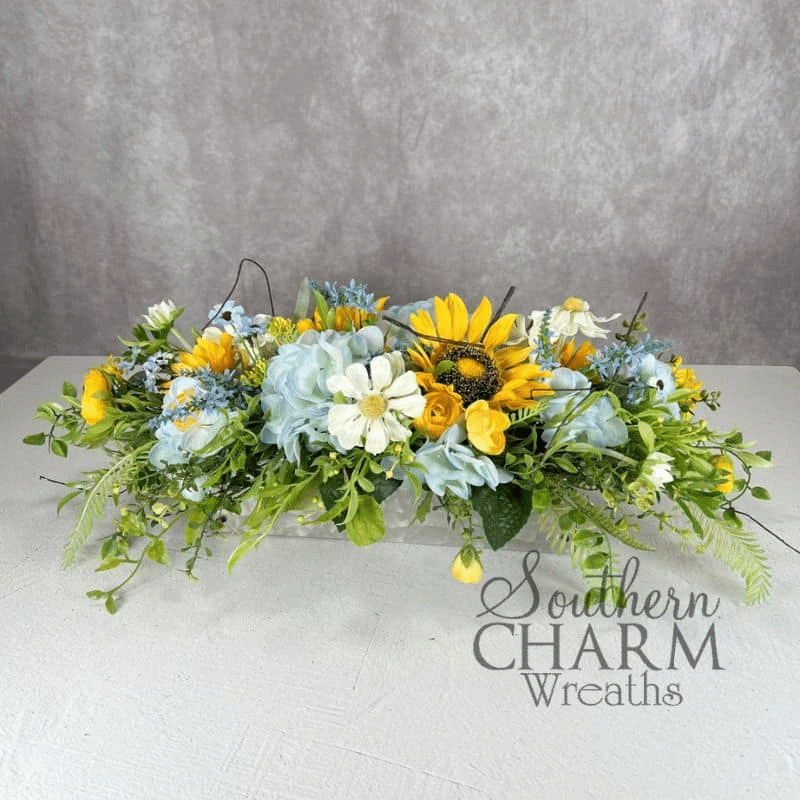 Gift your mom beautiful flowers that will last forever!
This spring tulip arrangement is filled with pink ranunculus, calla lilies, and pink tulips for a feminine design.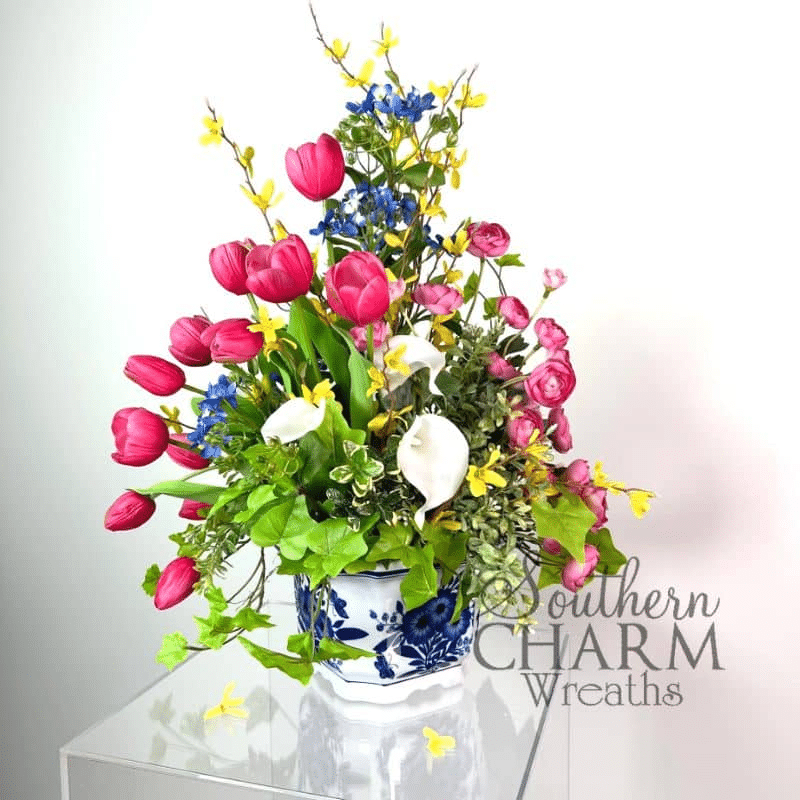 There's nothing like decorating for Christmas!
This winter, elevate your holiday decorating with this a gorgeous silk flower arrangement, complete with a beige poinsettia and plenty of mixed greenery. Learn how to make this artificial Christmas table urn arrangement and feel free to change up the color to match your own decor.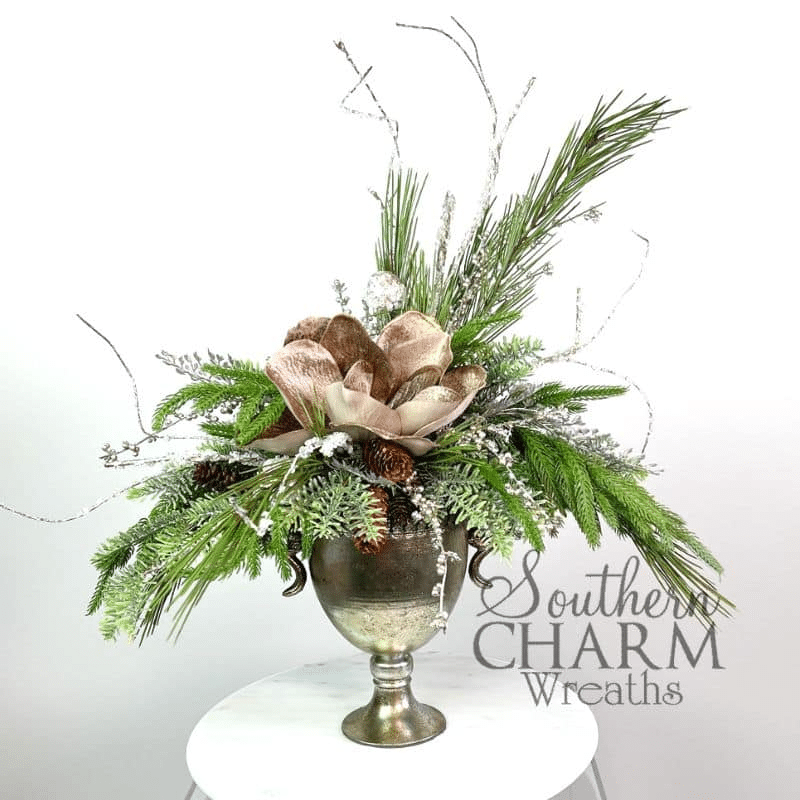 This wine bottle bouquet arrangement would look fabulous as a table centerpiece. Use several to decorate an event or give one away as a sweet gift.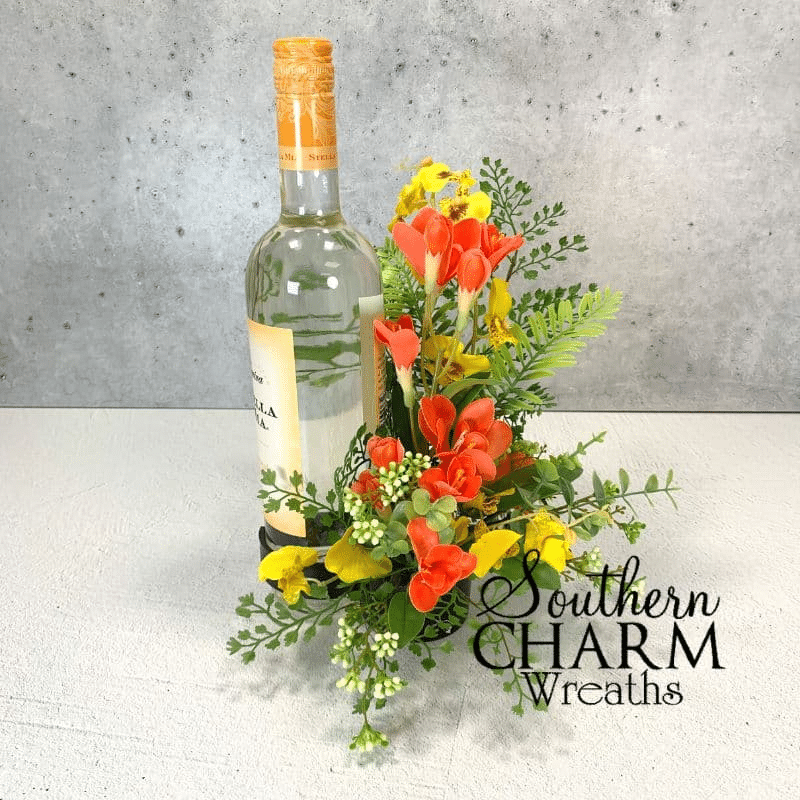 I love the way the pastel colors meld together in this summer silk flower arrangement tutorial, beckoning soft summer days. 
Peach, blue, and yellow silk flowers pop against dark mixed greenery. The combination would make a gorgeous addition to your nightstand.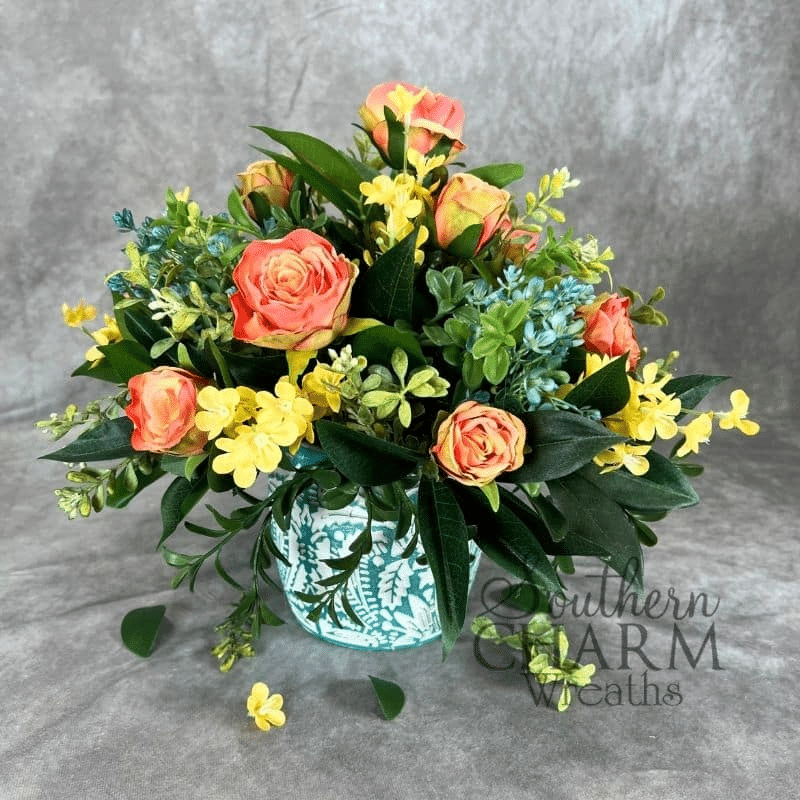 Conclusion: Silk flower arrangements
Silk flowers are a fabulous way to create elegant and long-lasting arrangements for your home.
By using a combination of plastic and silk flowers, you can create realistic, affordable arrangements that celebrate beauty and joy.
Try making one of these arrangements for your home; you'll discover how silk flowers can make your space shine!
Like this post? Pin it for later!